Glo Skin Beauty Products
Hennigan Salon and Spa is proud to partner with Glo Skin Beauty and offer their exceptional products for purchase in our salon.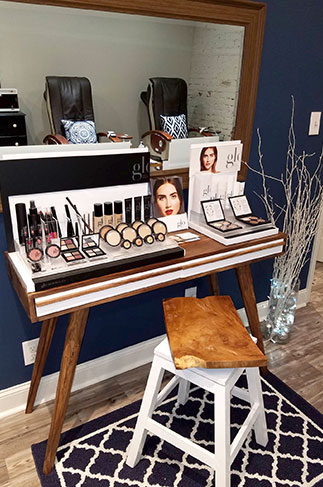 Your skin is as unique as your individual beauty. Glo Skin Beauty provides a fully integrated product line that starts with your cleanser and ends with your lipstick. Researched and developed with innovative, active ingredients and nourishing minerals, Glo Skin Beauty's professional products deliver your personalized prescription for healthy, beautiful skin. Skincare and makeup professionals worldwide use Glo Skin Beauty to deliver on the promise of flawless skin and empower clients with confident beauty.

The professionals at Glo see makeup as an extension of skincare and understand how active ingredients in proper concentrations deliver skin transformation. What's not in the formulas is as important as what is. Glo is passionate about delivering products that make you look and feel your authentic best.

Glo's innovative skincare formulas are designed to balance your skin type and pair seamlessly with specialty treatment products to tackle your top skin concerns – truly personalized skincare solutions. With your optimal skincare routine identified, Glo provides the finest mineral makeup collection to ensure a healthy, radiant complexion. One might say Glo covers all the bases...literally. Glo's award-winning, skin-nourishing, mineral makeup formulations enhance and protect even the most sensitive skin. With a variety of formula and finish options and an exceptional shade gallery to promote every beauty ideal, Glo Skin Beauty delivers customized complexion perfection.
amika Hair Products
amika is an independent, professional line of haircare products and tools from Brooklyn, New York.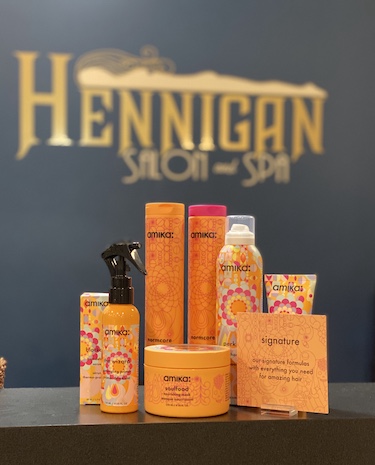 amika was founded by industry outsiders in 2007 and is the antithesis of a typical beauty brand.

amika products are like a good friend - straightforward, dependable, and fun to spend time with. We are kind-of obsessed with the "superfruit" Sea Buckthorn Berry, so we include it in every haircare and styling product.

We are always on a quest for new technologies and ingredients to deliver high-performing products. They are vegetarian-friendly, cruelty-free and free from sulfates, MIT, MCI, phthalates and artificial colors.

Instead of purveying unattainable perfection we believe in an idiosyncratic and totally individual version of beauty. The result is a culture of inclusion and positivity, all while delivering puddles of fun and a sunny disposition from looking at our packaging.
All-Nutrient® Permanent Cream Haircolor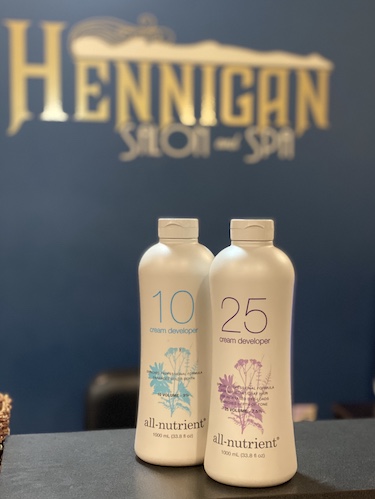 All-Nutrient® Permanent Cream Haircolor uses the healthiest, most natural ingredients known to exist, nurturing each strand with the nutrients it needs and none of the chemicals it doesn't. From the roots of the Amazon rainforest to the roots of your hair, it is the perfect solution for today's organic and green demands.

With a natural, vegetable-derived base infused with active Keratin micro-proteins, Amino Acids, organic oils, vitamins and minerals, our haircolor reestablishes the building blocks of the hair and reconstructs each strand from the inside out. It is made with the most organic ingredients possible. We do not make "all organic" claims because no permanent haircolor can—just henna.

All-Nutrient® is the first haircolor in the world to contain Zemea® propandiol - a USDA certified, 100% vegetable-derived ingredient of natural origin that is the petroleum-free, glycol alternative for the cosmetics and personal care market. Its performance is far more superior to its harmful oil-derived alternatives, such as propylene glycol, butylene glycol or glycerin that are used in most other haircolor brands - just check their ingredient lists!

Because of the all-natural properties of Zemea® propandiol, we can offer a haircolor that prevents skin irritation or sensitization, improves moisturization, and keeps hair healthy.

We use a more expensive, comprised of 100% oxidative dyes that put the maximum amount of color into the hair. This ensures 100% gray coverage, fade-proof reds, and maximum longevity.

Further, a complex blend of small molecular pigments facilitates the entrance of dyes into the hair shaft to guarantee longer-lasting, more brilliant haircolor.